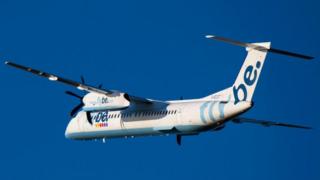 UK airline Flybe has gone into administration, putting 2,000 jobs at risk, after a bid for fresh financial support failed.
The Exeter-based carrier said the impact of the coronavirus outbreak on demand for air travel was partly to blame for its collapse.
Its website now advises customers to "not travel to the airport" unless they have arranged an alternative flight.
Flybe boss Mark Anderson said he was "very sorry" for the firm's collapse.
In a letter to the airline's staff, chief executive Mark Anderson said: "Despite every effort, we now have no alternative – having failed to find a feasible solution to allow us to keep trading."
In response to the collapse, the UK government said it was ready to help Flybe's workers find new jobs and would work with other airlines to replace services: "We are working closely with industry to minimise any disruption to routes operated by Flybe, including by looking urgently at how routes not already covered by other airlines can be re-established by the industry. "
Transport Secretary Grant Shapps said everyone was "gutted" about the news but added: "We really tried to do everything we could back at the turn of the year.
"Unfortunately, with the situation that has developed with [coronavirus], an already weak company, I'm afraid, just hasn't been able to survive."
How have passengers reacted?
David Manners arrived at Exeter Airport this morning to find his Flybe flight to Paris had been cancelled.
The trip had been planned as a surprise Christmas present for his wife and he said they were "absolutely gutted".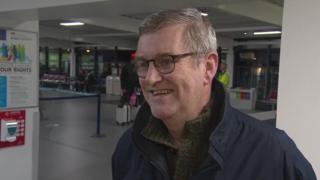 Mr Manners, who lives in Lyme Regis, said Flybe's collapse would also be bad for the area.
"We use this airport quite a lot because it's so convenient," he said. "We know some of the staff very well… I feel for them."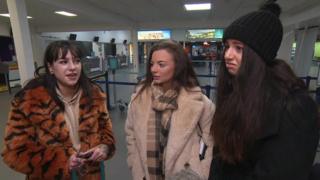 Jessica, Abby and Robyn work for a recruitment agency and were due to return to Jersey via Exeter Airport after a business trip.
They described the airport as a "ghost town" on arrival.
Abby said: "I use Flybe maybe once a month, and not having it now will be such a nightmare."
The group said that other airlines such as EasyJet or British Airways did operate flights from Jersey, but they typically only flew into larger airports such as London Gatwick.
Ryanair has launched "rescue" fares for March and April on five routes following Flybe's collapse. They include flights between Bournemouth and Dublin, Belfast and Stansted and Belfast and Manchester.
Train operators across Britain are also providing free travel to customers and Flybe staff who are unable to travel over the next week, according to the Rail Delivery Group.
What are your rights as a passenger?
Flybe customers who bought tickets directly from the company will not be protected by Atol, the travel industry insurance fund
However, if you bought through a travel agent or other third party you might be covered.
Some people might be able to get their money back if they paid by credit card or with some debit cards.
What does it mean for staff?
Thousands of jobs are at risk following the regional airline's collapse.
Katherine Densham, a Flybe cabin crew member, had been due to fly to London City Airport from Exeter on Thursday. She has worked for the airline for 13 years after joining the firm straight from college.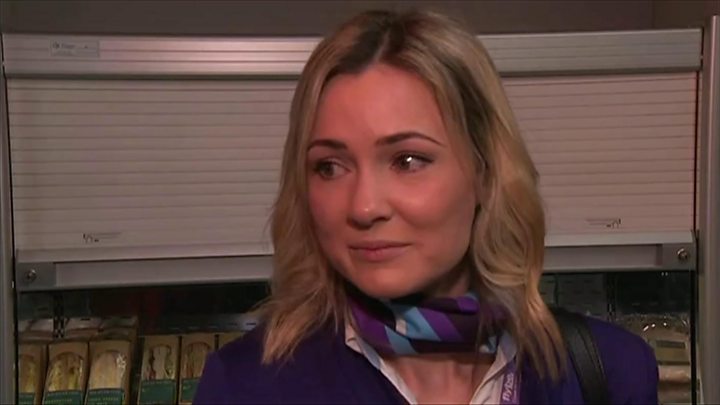 She told the BBC that staff were feeling "really sad" and that she was not sure what to do next.
Balpa, the pilots' union, said that pilots, cabin crew and ground staff "have done their jobs brilliantly" throughout its struggle.
The union questioned how staff "are going to find new jobs in the current climate", although companies such as South Western Railway have already been calling out for job applications from Flybe staff on social media.
What went wrong at the airline?
Flybe ran into difficulties last year and was bought by a consortium that includes Virgin Atlantic.
But its troubles persisted, and it narrowly avoided going bust in January this year. The new owners said they would pump £30m into the business to keep it afloat, but appealed to the government for additional support.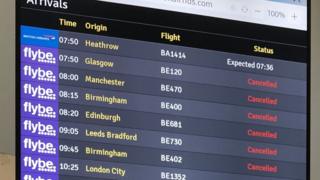 Flybe, which served destinations from the Channel Islands to Aberdeen, had also been hoping for a £100m lifeline from the government and changes to Air Passenger Duty taxes.
But the news that it may benefit from government help sparked a backlash from its rivals. British Airways-owner IAG filed a complaint to the EU arguing Flybe's rescue breached state aid rules.
Virgin Atlantic said it was "deeply disappointed" that Flybe had gone bust, adding that the consortium had invested more than £135m in keeping the airline flying for an extra year.
While its financial problems were already apparent, a Flybe insider told the BBC the impact of the coronavirus on the travel industry had "made a bad situation much worse".
Air transport expert John Strickland added that the regional market was extremely challenging for any airline, but that Flybe had made matters worse some years ago through over-ambitious expansion.
"It's really too big for what it's trying to do," he said.
What does Flybe's collapse mean for the regions?
Although Flybe is small compared to the likes of British Airways, Ryanair or EasyJet, the loss of the operator has been described as "disastrous" for UK regions.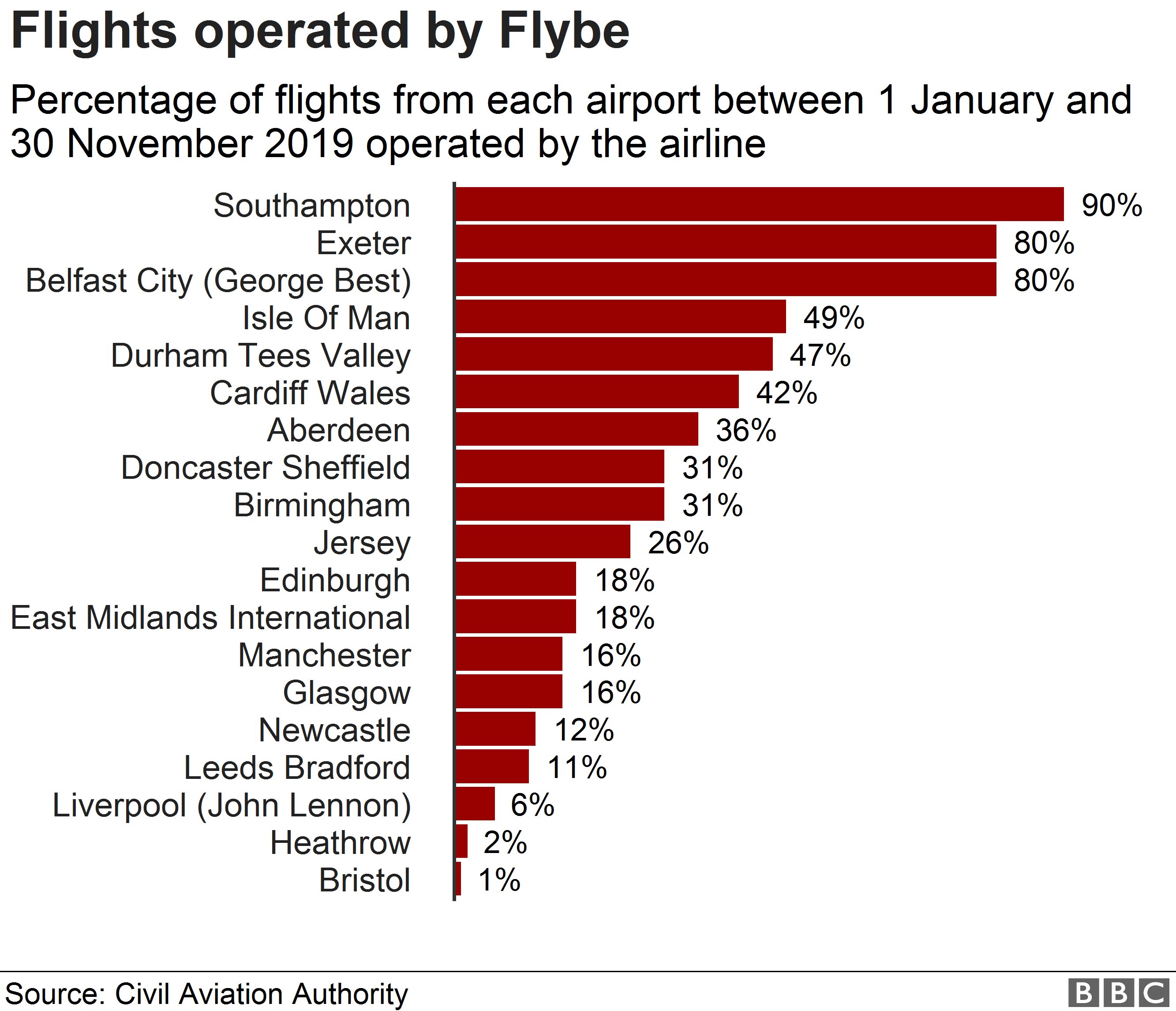 Mr Strickland said Flybe is "small in the scale of the UK market as a whole, but if you're flying out of Exeter, Newquay or specifically Southampton it really is one of the only airline choices… so a number of regional groups will risk not being served".
Following last December's general election, Prime Minister Boris Johnson pledged to "level up" the UK's regions, after the Conservatives won seats in previous Labour strongholds. He appeared ready to intervene to prop up the airline, considered a key transport link to many parts of the country.
Shadow transport secretary Andy Macdonald said the airline had provided "critical connectivity for many locations" and its collapse would be "disastrous news for passengers and employees alike."
"The government has to answer how those vital links will be maintained following Flybe's collapse. Communities will be concerned about what this will mean for their local economies and the Secretary of State has to come up with answers to these questions as a matter of urgency," he said.
Tim Jeans, chairman of Cornwall Airport, said that he "very much hoped" that other airlines would take up the routes. He said discussions with other airlines would "begin in earnest" soon and he hoped to reinstate services "on those routes hopefully within weeks rather than months".

Was Flybe too ambitious?

For the past 15 years Flybe has been trying to join the big boys of aviation, and failing.
The serious push came 10 years ago when it raised money with a stock market float, and set out a plan to become Europe's biggest regional airline, flying mid-sized planes between secondary cities. The model works brilliantly in America, where regional airlines, often flying as franchises of the larger network carriers, are a large and thriving business.
It did not work – or at least Flybe did not make it work – in Europe. It retrenched, and was left in the farcical situation of paying for a fleet of Embraer aircraft that it could not fly. The remaining network was still too big, and cash resources dwindled. The airline came close to going under at the start of last year, but was bought by consortium of Virgin Atlantic, Stobart, and a financial investor Cyrus Capital.
They had conflicting objectives. Virgin was eager to preserve feed to its long-haul flights at Heathrow, and perhaps snaffle along the way some of Flybe's valuable Heathrow slots. Stobart was eager to keep flights at its main asset, Southend Airport. And Cyrus thought it might make money if the business was resuscitated.
The trio were slow to act – a rebranding to Virgin Connect never happened, and losses continued to rise. A cold shoulder from the government and a rapid drop in bookings thanks to the coronavirus sealed the airline's fate.
For the airports most affected – Southampton, Exeter and Belfast City – this will be a worrying moment. There is not a queue of airlines wanting to pick up UK regional routes – and particularly not when the coronavirus has plunged the entire industry into uncertainty.
---
Have you been affected by the collapse of Flybe? Share your experiences by emailing haveyoursay@bbc.co.uk.
Please include a contact number if you are willing to speak to a BBC journalist. You can also contact us in the following ways:
Read more: https://www.bbc.co.uk/news/business-51746564