This post will reveal secrets great writers use to find questions to dominate Quora, such as how to find popular questions that match your niche, follow relevant topics and users, check followers for the question, select questions based on data, follow relevant topics and users, etc.
If you do not know yet, Quora is a Q&A site where people ask questions on practically any topic and others share their expert knowledge of them.
That said, and without further ado, let us get into the nitty-gritty of things.
In a previous Quora post, we talked about how to create a Quora account, fill out your profile, and add credentials. We also discussed how to write a killer profile bio, to describe your topic experience and to optimize your profile for success, among others.
In this present article, we are going to the next logical step: how great writers find the most viewed questions on Quora in order to dominate the site.
We will consider extracts from blog posts of Bob Ruffolo, Searchtides, Cara Tarbaj, Daniel Ndukwu, Liis Hainla, Tom Blake, Aquif Shaikh, Amanda Bieganski, Amy Copadis, Neil Patel, Ankit Singla, Lilach Bullock, Si Quan Ong, Coursehero, and Mohit Arora.
Find Relevant Questions
With your profile created and optimized, you can now start to look for the most popular question on Quora to answer.
We will begin with this video:

How To Get Backlinks From Quora – How To Get Free Traffic From Quora (Quora Traffic Tutorial 2020)
Summary of the video
Type the following into Google:
site:quora.com keyword "1 answer" "view 1 upvoter" "k views"
Replace the word keyword with your keyword. For example: Make money online
Click one of the posts and write a blog post about it.
Use it to better answer the quora question to get 2 upvotes and become the top answer.
Link your Quora answer to your blog post.
You'll get the top Quora position, backlinks and top Google position.
How to find the right questions to answer
Millions of questions are posted on Quora. How can you find the good one to answer in that sea of questions?
This interrogation is important because I believe no one wants to unknowingly spend their precious time and effort to answer questions that are old or irrelevant to their niche.
Believe me, a lot of people face challenges in this wise.
I have myself posted on topics that brought me very few views and a few to no upvotes.
Yet, the more views your answer receives, the more the likelihood of gathering upvotes. And the more upvotes your answer gets, the higher it will display in that question's feed.
So, how do you find trending questions?
BOB RUFFOLO
Let's see how Bob Ruffolo, CEO of IMPACT, an Inbound Marketing Agency, explains this.
Let's say you're looking to answer questions about inbound marketing. Of course, you'll want to search for that term in the search bar as below:
Quora will suggest related topics to your search term, as in the image above.
Now, select the one you want, and you'll be directed into the feed to that topic.
Once there, select the Topic FAQ (frequently asked questions).
This will bring you the top questions that are being asked.
Now, you have hit gold for a starting off point.
But you may find the question has already been answered by hundreds or even thousands of people.
Is it worth your while to go ahead and answer such a question too?
Sure, according to the author.
This is because if many people are answering a question, equally that many, if not many more, people are viewing the question. And if your answer provides value, it's possible that those viewers will take a look at your answer too and upvote it.
When that happens, your answer will move towards the top of the feed.
What about relevant questions?
There is a similar way to find them.
It consists in typing your keyword into the query box and selecting Search.
Then filter those results based on questions that have been submitted within the month.
How to find evergreen questions with more than 1,000 views
After identifying your topic's FAQs, look for two things: questions that have received more than 1,000 views and ones that have been posted for at least a week.
As we saw above, the more views a question receives, the more exposure your answer to that question might get too.
To get the stats for each question, go to the right sidebar and look underneath Question Stats:
Quora doesn't allow you to filter questions by views. So spend some time manually searching for questions that match that criteria.
You will reap the fruit of your efforts.
Turn on Notifications
You'll want to continuously increase brand awareness on Quora, won't you?
Then you'll need notifications of new relevant questions to your areas of expertise.
To receive them, follow topics that are relevant to your industry and Quora will send you emails.
Don't get those emails and do nothing about them.
When you can, provide answers to the questions that resonate with you.
The easiest way to do that is to use content you've already created, preferably those posted on your blog.
But don't just copy and paste the content.
Repurpose it.
And don't give away everything or even too much.
You may want to send your Quora readers to your blog for more information, thus bringing you traffic.
SEARCHTIDES
In Quora Marketing: How to Leverage this Q&A Site to Build Your Authority, we read:
How to follow relevant topics and users
Do you want to be in the know of the Quora recent questions asked and answers written in your industry?
Then, here too you can find the topics by typing your industry into the search bar.
Then follow the topics that appear there.
In the image below is an example for "content marketing":
As usual, you can go through the results and follow any of the topics there, which are all related to content marketing.
Just click on the topic and you will see the feed of questions asked about it, together with related topics which might interest you.
The good thing here is that you can find the best answers for each of the most relevant questions asked over time.
You can upvote the questions and follow the user who answered it. This way you can keep track of their answers to other questions.
CARA TARBAJ
Finding popular questions on Quora to answer
Check for ones that have more than 1,000 views per week
There are a couple of different ways to land the most popular questions on Quora.
Cara Tarbaj in How We Answer Quora Questions to Drive Traffic to our Website talked ofthe top three that worked for them:
I quote
Use the search bar. Search short phrases and keywords that relate to your article (don't use long sentences as they're not good for getting the results you want). For example, I searched "pre-launch landing page" when I found our top traffic-driving question (…).
Browse/follow topics. Each topic has a set of "stories" which are top answers at the time.
Follow people in your industry. Then browse your home feed for an assortment of questions answered by people you follow.
and unquote.
Now, how do you get to answer questions that will bring you value?
The article advised to look for the following:
The most recent questions
Answers that are a week or older with more than 1,000 views
Let's see the first way to get to answer questions worth your time.
The most recent questions
For browsing the most recent questions, they suggest to begin by following some topics. You can find topics relevant to your industry by using the search bar at the top of the page.
Now, how do you know a search term is a topic?
It will be specified on the right hand side as in the screenshot below.
Click on it and you'll be brought to the topic page.
There you can click the "Follow Topic" button.
After you follow some relevant topics, look under "Write" in the navigation bar at the top of the page.
There you can find the most popular recent questions.
Note that the questions won't be sorted into the most recent. You will only find that each question has a time that it was posted in the description.
For the most recent, look for ones that are no more than an hour old with 0 to 5 answers.
That said, we are now going to consider the other way to get to answer questions worth your time.
Answers that are a week or older with more than 1,000 views
If you find a question that is at least a week old and has 1,000 views or more, then that is where to start.
This is because 1,000 views mean that the question has enough popularity within the Quora community to bring more eyeballs on your answer.
See the screenshot two paragraphs below for a case in point.
The question asked just a little over a week before had accumulated 1,326 views.
Both the date it was asked and the QUESTION STATS (which show the number of views on the question) have been pointed out.
Since Quora doesn't give any date or view counter filtering of some sorts, you must do the work searching on your own.
Don't balk at doing it because this will pay you big.
Meanwhile, you'll find that after you've answered a few questions, Quora users will be asking you questions in your chosen niche.
You'll find these questions in the same section under 'Asked to Answer' shown in the left sidebar below.
Now, can you begin to see immediate results?
No, the author says.
Like content marketing, you can't just answer one question or post one article on Quora and get your expected results.
Cara Tarbaj says that if you check the total traffic their site receives from Quora, their top answer brings them only a fraction of the traffic they get from the platform.
SOURCE
Another useful way to land most popular questions on Quora
Another useful way I found to get great questions to answer is the following.
Search keywords related to your blog
For example if you write about cooking, search cooking on Quora.
The topic must be popular.
And as you can see in the example below, cooking has 5.8 million followers.
So it's perfect.
Find popular questions
To do so, click on Most Viewed Writers
Then click on View Answers
Now hit 30-Day Views to find the popular questions
Now, how do you know a question is popular?
When the answer to it has gathered thousands of views and many upvotes.
Consequently those are the questions you would want to answer.
Answer them better than anyone else and you will be handsomely rewarded.
One last thing.
Make sure people actually care about the question.
How do you do that?
Find not only one that people are following but also one they are passionate enough about to comment on and share with others.
DANUEL NDUKWU
I found How to Increase Your Email Sibscribers By 339% In 60 Days [Case Study] from Daniel Ndukwu very useful:
I found the following explanation from Daniel Ndukwu very useful:
Choose the right questions
According to Daniel, this is where most people fail with Quora. They don't think of the platform the way they do their blog.
What does he mean by that?
When writing on your blog, what do you usually do?
You choose topics that resonate with your readers and which you can handle well.
After writing the piece, you deep link and give your readers resources.
Don't treat Quora any differently.
The key is engagement.
So choose the most popular questions on Quora and improve visibility there.
Here are what you must do.
Select questions with a good number of followers but not too many answers
If a question has got too many answers, there's the possibility that yours will be buried under them.
So choose questions with at least 40-50 followers and less than 30 answers.
Since people following the question get an instant answer notification in their inbox, if you've supplied the answer users expect of the question, you'll get an upvote.
Check when the question was asked and the distribution of views
When the question was asked
When the question was asked is important because the more recent the question is, the more likely people are to find it in their feeds.
Now, how do you check when the question was asked?
You do so by clicking edits under QUESTION STATS.
Then scroll all the way down to the first edit.
You have when the question was asked.
Distribution of views
Some questions may have a lot of views but all amassed by one person. It could come from the fact that that person has a lot of followers or simply because they wrote a really great answer.
Avoid such questions at all costs if you want to make an impact on Quora.
To buttress his point, Daniel pointed out this question which appears to be good to answer yet he alone gathered most of the views: a good forty thousand out of the whole fifty-six thousand.
So it will be worth your while to check that if a question has a lot of views, they are evenly distributed among the answers.
Another Daniel Ndukwu piece I found interesting was How to Get a torrent of Quora Traffic
Four Things to Look for in Good Questions
Under this sub-title Daniel said that "There are a few stats you can use to determine whether the question will bring more visitors to your website."
They are:
Number of people following the question
Age of the Question
Total views and distribution of total views
Daniel assured that if you can validate all of them you could get Quora traffic.
And added that the more views you get the more likely it is that you will drive Quora traffic to your website.
Number of people following the question
This is an important metric. Because when you answer a question, followers will receive an email notification and your answer will show in their feed.
Hence if only two people are following a question, only those two will receive the notification and have the answer in their feed. Consequently it may not be the best question to answer. On the other hand, if two thousand people are following a question it may also not be worth your while to answer.
Why?
A question having many followers could gather a lot of answers. People are on Quora for different reasons. According to Daniel, "some are looking for ways to get a lot of views and build authority in their niche. Some are in it for the fun. No matter what group it is, everyone wants a lot of views and upvotes."
For example, below is a question Daniel esteems would be difficult to answer.
This is for the simple reason that with over 100+ answers there's already a lot of competition. Besides, many of the people who've answered the question are top writers.
But a better question to answer would be something like this one below:
This is because only a few people are already following and there are only a few answers fighting for attention.
Daniel advises to look for questions with 50–100 followers and less than 10 answers. And said that if he became deliberate about the type of questions he answered, his answer views shot up.
Age of the Question
Daniel said people overlook this metric, the second point when selecting the right questions.
How do you find how long the question has been waiting for an answer or how long it has been getting answered by others?
By navigating to the right hand side of your screen where the question stats are displayed.
Once there, click on edits.
It'll bring you to the changelog of the question.
Scroll down to the bottom.
You'll be able to see when the question was first asked.
Note that older questions, if they aren't popular, won't come up in your feed that often.
For that reason, Daniel sees this question as worth answering because it's not too old and the number of views is decent.
"The younger the question," Daniel says, "the better your chances of sitting at the top of the heap when you give a good answer."
Total views and distribution of total views
This is the last point when selecting the right questions.
It is an early indication of the popularity of a question. "When viewing a question that hasn't gotten any answers, Quora will show you how many people viewed the question in the last day or so", Daniel says.
Should more than one thousand people have viewed the question, then surely people have found it interesting. It follows that they'll also upvote a good answer to it which will no doubt have a lot of views.
Daniel also recommends that an important metric to look at is the total views after a few people have answered the question. "If a question has one thousand total views after five answers then people may not find it interesting," Daniel claims.
But if an answer has tens of thousands of views then its potential could be huge.
Here below is such a question:
This question has 11 followers, 4 answers, and was asked less than a week before. Great to answer, right?
"Not so fast," Daniel says, "you need to check the distribution of views. I answered this question the day after it was asked and because I have thousands of followers, it showed up in their feed."
Daniel's followers, some 28k out of 31k, liked the answer and quickly upvoted it, generating most of the views on it.
How well did the next most popular answer do?
It amassed fewer than 3k views.
Worse, the other two didn't cross one thousand.
Which shows that it might not be a very good question to answer.
As conclusion, Daniel said "selecting questions that'll drive a consistent stream of traffic back to your website is a multi-pronged approach. It's not difficult, it just requires diligence."
LIIS HAINLA
Liis Hainla, in 5 Tips How to Promote Your Blog with Quora, writes:
Finding the most followed questions to answer
There are two ways to finding such Quora questions to answer.
Theyare:
questions with the most followers and least answers
questions in your field of expertise.
Questions with the most followers and the least answers
The first way is to look for questions with the most followers and the least answers. That is a popular question.
Of course, a question is popular because it has the most answers.
Should you answer it?
Liis says you can but your answer may get buried underneath the top answers that have racked up thousands of upvotes. This means that you shouldn't really expect your question to do so well.
On the contrary if you find a question with lots of followers but few answers, you must write an answer immediately.
Questions in your fields of expertise
The second way is to look for the latest questions in your fields of expertise.
In fact, you don't even have to look for them.
When there's a new question on your topic or a new answer from a user you're following, Quora will send you an email update.
You can answer these questions to establish your authority on Quora.
But note that such questions do not guarantee that people will be following it, neither is it an assurance that it will attract lots of answers.
I've received questions like that which I thought had enormous potential of viewers but which turned out to be a mirage.
Choosing the questions
In this wise, Liis says that you don't just grab the list of questions and jump on one and begin to answer it.
You must instead take your time to go through the list until you find the most followed questions on Quora that you can answer well.
And Liis suggested strategies you can use either separately or combined into a whole:
Find unanswered questions or those with few answers
Find a question that hasn't been answered yet or one which has received only one or two replies. Answering smaller niche topics or new questions makes it easy to stand out.
Find questions with lots of upvotes
Find questions with lots of upvotes, which indicates that it is viewed a lot and as much appreciated. Many great answers on Quora go viral and as such are read by many thousands of people.
Find popular questions that match your niche
Browse topics related to your niche and choose questions that get views and drive traffic.
Below is an example for popular questions in the marketing niche.
Start off by finding a topic inside that niche.
Here, it is Search Engine Optimization (SEO).
Inside this topic, we find it is followed by 1.3 million people.
A bonanza!
Under the Follow and Bookmark section, we find three tabs:
Read
Answer
Most viewed writers
Now, let's look at them.
Read
If you browse read, you will see a selection of questions inside the topic.
This list often contains popular questions on the topic.
You will notice the popularity by the large amount of upvotes the questions have received.
Answer
The answer tab gives you recently posted questions waiting for users to answer.
To find the number of people interested in knowing this answer, check the number of people who clicked the "follow" button.
Most viewed writers
And lastly, we can see the most viewed writers on the topic.
Underneath the writer's bio, click "View Answers."
Then choose a popular writer in your niche topic.
Now, zoom into some of the writer's most viewed answers.
Filter the questions by "All-Time Views" to have the most popular ones on top.
The question "What is cross-linking? What is the function of crosslinking in SEO?" takes the top place.
Opening the question and scrolling to the bottom reveals that it has over 90k views.
As this demonstration shows, this method enables you to find the most followed questions on Quora that get a lot of exposure inside a niche.
Now, select those that match content on your blog or, use them as ideas to produce new content.
Always link the Quora answer to the content on your blog. But make sure to link to the relevant content.
Track relevant topics and new questions
Tracking relevant topics can make you find new questions to answer on Quora. To stay up to date you need to hit the notification button. Then connect with writers in your niche and follow their activity.
While setting up your profile, you entered your field of expertise. Thus people who have questions in the topics in which you are an expert will ask for your answers. And Quora will send you notifications in that sense.
To find opportunities, you can browse newly entered questions. Responding fast to these new questions can be advantageous in terms of gathering upvotes.
Re-answer questions covered on your affiliate blog
If you have written in-depth blog posts based on serious keywords research, it is possible that they have answered questions being asked on Quora.
All you have to do is go on Quora to find these questions and use those posts as valuable answers.
Don't forget to link to your content.
TOM BLAKE
Tom Blake, in How To Use Quora to Generate Traffic to Your Website, talked of the following strategy:
Finding Good Questions to Answer on Quora — The Goldilocks Approach
I quote
Look for a high number of followers and views on a question.
Look for questions where the top answers aren't that great.
Make sure the question is rising/trending, but not already dominated by industry giants.
and unquote.
Why the name "Goldilocks approach"?
Tom said because you need to answer questions that are 'just right.'
He answers questions on Quora that are rising in popularity and where he has the chance of standing out.
So if Neil Patel, Moz, and 5 other SEO experts have answered a question over the last 3 years, he knows he doesn't have a dog's chance. So he leaves the thread alone.
The author does this because Quora is all about providing value to readers. Therefore, if one cannot add any more value to the answers given, the best is to let sleeping dogs lie.
AQUIF SHAIKH
Aquif Shaikh, in 7 Tips For Effectively Using Quora To Drive Traffic To Your Blog, touched on:
Questions For You
He said questions likely to get a lot of views are:
Questions re-asked
Questions followed, and
Questions asked
They are displayed in "Questions For You" left of your Quora dashboard as shown in the screenshot below.
All you have to do is note these questions so that you can answer them later.
Asked To Answer
When a Quora user asks a question, the feature "Asked To Answer" enables them to choose 15 people versed in the topic to answer the question.
If someone asks you a question in this way, you will find it in the "Asked to Answer" section, just below the "Questions for You" section (See image above).
When you just begin to answer questions on Quora, you will not find any questions in this section. But as you write answers and your reputation grows on the site, you will find more questions in this section.
Although they are some of the best questions to answer, it is not ruled out that you may find some of them totally out of context.
Answer them all the same, if you can.
This is simply because answering a question asked by someone gives your answer more authority.
Your answer is also less likely to be regarded as spam by the Quora moderation team.
Questions in Your Feeds
You will find questions in your feeds. They are primarily meant for you to read.
This shows the importance of selecting the right topics in your feed when setting up your profile.
You can see some relevant questions in this section.
Being meant for your reading, content in this section is generally very popular. The answers here could get 10 times more views than other sections.
See in the screenshot above how just one answer got 42.4k views!
Unfortunately popularity is accompanied by competition.
Here, you are pitching your answer against some of the best. And unless yours is really great, it may not even get noticed.
Shortlisting Questions Which Can Drive Traffic
No serious writer is on Quora to spend their time and energy answering questions which will receive only a few views and upvotes. They wouldn't also appreciate questions that send little to no traffic to their blog.
So how do you find out how to shortlist questions from the rest with a potential to drive traffic?
Aquif suggested four things:
Check Followers for the Question
Look for the Number of Views
Verify the Quantity and Quality of Answers Already Posted
Find out the Number of Views from the Last Day
Let's see what the author says about each.
a. Check Followers for the Question
Quora enables its readers to follow a question for which they are interested in seeing the answers to. If you are familiar with Facebook, this function is similar to following a status update there.
The reasoning is this: the more the number of people following a question, the more popular that question is. And the more popular the question is, the more visitors it will attract.
Furthermore, whenever such a question is answered, almost all those following it will receive a notification with a link to the answer.
Aquif illustrated this with the question What can I learn/know right now in 10 minutes that will be useful for the rest of my life?
As shown in the image below, it has over 35,417 followers.
So when someone writes an answer to this question, some 35,000 people will receive notification about it.
b. Look for the Number of Views
Contrary to a. above, many questions have very few followers, but do get a good number of views.
That's why the author suggested that the number of views a question gets is another important metric you must check when looking for a question to answer.
See how the question below," Is India Changing?" has only 924 followers but garnered over 5.6 million views.
Besides, when Aquif was taking the screenshot, 275 people had viewed the question, which shows how popular it was.
c. Verify the Quantity and Quality of Answers Already Posted
Of course, you would want to answer the most popular questions. But one other important thing to do is also to check the number of answers already posted to a question as well as the quality of the top-ranked answers.
This suggestion is called for because, at Quora, some popular questions can get too many answers.
Let's take the question What is the most amazing photo you have ever taken?
It had received over 2903 answers at the time the author took the screenshot below:
If the other answers are equally good and have also got a lot of views, then your answer must be exceptional in order not to be lost among the hundreds others.
d. Find out the Number of Views from the Last Day
For answers which are trending, Quora gives more details about the number of views the question has received in the past day. You can find this information in your "Questions For You" section and also when you look at an individual question.
AMANDA BIEGANSKI
On finding the most followed topics for Quora dominating, Amanda Bieganski in Forum Link Building: How to Drive Traffic with Quora began with:
3. Collect Questions
She said after fleshing out your profile, you have to collect potential questions in your main topics of interest. As you get the topics that you searched for, bookmark them for future use.
Another way she suggested is to save individual questions by flagging them to be placed in your "Answer Later" list.
All you need to do that is to click the three dots icon on a question and select "Answer Later."
Choose questions to answer strategically
Like everything in life, some questions will bring you more value than others. That being the case, the author suggests to choose those questions that will give you the most exposure from your fellow Quora users.
First thing look at is how high the question is on the feed. This is because "Popular questions and answers are found near the top of the feed."
Then check for the number of followers the question has. For, the more followers there are, the more the number of people who will read the answers to this question.
Now that you have a popular question with lots of followers, read through the answers to see if you can write a better one than everybody else.
If yes, and if you succeed in doing it, you'll get more upvotes which means great visibility for your answer.
AMY COPADIS
Amy Copadis, in Quora Backlinks: 6 Clever Steps to Get Targeted Referral Traffic from Quora, says under the sub-title:
Browse Unanswered Questions
that it would not be a picnic.
"The truth is that it will take time to find the most interesting question on Quora to answer, and that will require some browsing."
The first thing to do is to search questions within your niche using industry keywords. Then see which ones you can answer.
To make sure the questions you can answer are useful, Amy suggested checking that they have the following key features:
I quote
More followers on the question than answers (this means people are very interested and awaiting answers)
Many answers that aren't helpful, or solely focus on self-promotion (it's a prime opportunity to swoop in with a real answer)
Badly-written answers
An emotional or controversial topic (these may get more viewers)
and unquote.
 Should a question have all those requirements, click on the three dots in the corner and select "Answer Later."
This way you can collect all the best questions to ask on Quora which interest you to answer them later on.
Amy advised to choose questions that you can answer using content from blog posts and articles you've already written.
 This way you'll spend less time doing research. You'll also have the blog or article link to use in your Quora answer as a useful resource for the reader.
Just because you're using your blog post or article doesn't mean you should copy and paste. Rewrite to make each answer unique. Duplicate content is punished by Google.
Remember Amy said at the beginning this should not be a rush job?
Here's why.
"The more time you spend on this search step, the more targeted questions you'll find and the better results you'll receive for your effort."
With that quote, let's go to the next sub-title:
3. Follow Your Niche Topics
Would you want to see new questions right in your Quora feed? What about having them directly delivered to your inbox?
You can get both by following topics within your niche.
Now, how do you find the right topics?
Through reading.
Read everything you can.
"Research and read the questions and answers that are related to both general and very specific topics within your niche," Amy says.
Doing this you will get loads of valuable ideas and insights you can use for doing keyword research and for creating content.
What else will this research reveal?
It will let you have the topics on Quora that have more followers. You will also get to know the ones which have more activity and see which of these high-activity topics your target audience adores.
Finally, on the right hand side, you'll find related topics which can serve as ideas for topics you can follow.
What may become evident to you within those niches is that many questions have already been answered by top writers.
Amy's suggestion is for you to follow these writers and check out which topics they're following. This will enable you to get more ideas.
Now, after you've followed a few good topics, they'll appear under your profile under Topics.
If you bookmark the topics, you'll also have the top questions and answers pinned to your Homepage any time you log in.
What you can then see are top questions (and highly-followed questions that need answers) delivered directly to you at regular intervals.
NEIL PATEL
In Neil Patel's How to Attract 9872 Visitors from Quora in One Month, I found Step #5 and Step #6 important.
Step #5 concerns how to find the best questions to answer.
And what is that, according to Neil?
They are questions that will give you the most visibility.
The stats most prized by people answering questions on Quora are "views" and "upvotes."
In that sense, the author suggested:
I quote
The way to get views and upvotes is, obviously, by answering questions.
But, you also have to answer questions really well.
Finally, you have to answer questions that will position you to gain the most visibility and upvotes.
and unquote.
The question now is, how do you find the best questions to answer?
The author gives several ways.
The first one Neil suggests is to click the "Answer" button in the top menu. Then you select answers that have been curated for you, based on your areas of expertise.
N.B.: This shows the importance of specifying your areas of expertise while optimizing your profile, which we discussed in this piece. 
The second way revealed by Neil to find questions to answer is to search for a topic that you're an expert in. Then you find the relevant topic page.
As illustration, Neil searched for "search engine optimization" and found this topic page which had 672k followers.
He says to next, click "Questions" on the right hand side of the page.
The followers of the topic have asked a total of over 33k questions.
You stand a good chance of getting some visibility if you provide a helpful answer.
What you must do is to find a question that has a lot of followers.
The question below has only 12 followers.
Although not a big number, the author assures it's enough to provide some level of value.
But how do I get more views and Upvotes on Quora?
Neil counsels you must write your own answer to a popular and trending question.
Where will you find popular questions and answers?
They are usually featured at the top of the feed on any selected topic.
If you think that you can write a better answer, don' hesitate to. If you succeed, you'll get a lot of visibility and hopefully many upvotes also.
Should your answer garner the most upvotes, you'll win the top position in the answer list for the question.
Even in the eventuality that you don't get the top spot, you'll still receive some high visibility.
Notice how 22 people have answered this question. Even an answer that isn't superior will still get views.
In the screenshot below, see how an answer with only 68 upvotes still has 6.8k views. That's not bad at all for views!
When your answer is displayed alongside an answer with higher upvotes, you still get views. Plus, you gain credibility by being associated with higher upvoted answers.
With that, we come to Step #6.
Instead of trying to figure out things yourself, the piece recommends to use QuestionsPro.
It is a tool that will streamline the process of finding questions that will drive the most traffic.
This is important because what will determine the quantity and quality of traffic is your ability to find relevant questions and keeping track of every response. A lot of time and effort are needed to accomplish that.
That is necessary because you're on Quora to give people value. And the more time you spend on creating value, the more of it you can have to give.
Unfortunately, it's not unusual to spend hours on Quora just sorting through hundreds of questions before finding a relevant one.
This process couldn't be automated up until recently.
And the only working solution Neil came across that can help you with discovering questions and tracking answers on Quora is QuestionsPro.
With this tool, Neil said he first generated keywords linked to the content of his website and Quora profile.
Next, he selected the most valuable ones in view of their search volume, ranking in SERP and traffic they could potentially drive.
That revealed 59 keywords which the tool said could convert into over 500 visitors a month.
On adding a few of his own keywords, he went ahead to find questions, which took the tool some two minutes to generate. Neil said the results were worth every second those two minutes.
The author says on answering any of the suggested questions, you can start tracking them immediately.
What QuestionsPro does is indicate you answered the question, and show its ranking, views, and upvotes.
From what we have been seeing till this powerful tool, it becomes clear that QuestionsPro will save you a ton of time and suck even more traffic juice from Quora.
Finally, Neil Patel gave a few common factors about the ideal questions to answer:
I quote
They're not very old – on Quora, the best questions aren't more than a few hours old. The older the question is, the more other answers you will be competing against.
They have a relatively high number of views – if they get more views than other questions, many people must be interested.
They have a low number of other answers – the more answers there are, the more likely your answer will get buried at the bottom.
and unquote.
ANKIT SINGLA
On how to find trending questions for Quora dominating, Ankit Singla wrote How to Get Traffic From Quora – Quora Marketing (2020) on the sub-title:
Step 4: Perform Content Research
He said while some questions had too many answers, others hardly got any. And that the questions you should be concerned with are those with a lot of followers but only a few answers to match the demand.
So if you want to learn how to master how effectively to use Quora, the author advises to be good at finding the right questions.
Now, where can you find these metrics?
"By navigating to one of the topic pages on your feed and going to the 'Answer' tab," Ankit says.
He then gave a rule of thumb:  Try to find questions with an answer-follower ratio of 1:5.
What does that mean?
That is, a post showing one answer or less and at least five followers. Such a combination favors your chances of getting high votes.
LILACH BULLOCK
Let's look at Lilach Bullock's Should you be using Quora to promote your blog and your writing? under the sub-title
Should you be answering this question?
When you find questions that you want to answer, the author recommends to scroll down to the question stats. Taking a look can let you decide if they're worth your time.
This is because the stats will give you the number of public followers the question has, the total views, and when it was last asked.
Lilach says that the question in the image below is not really worth your time to answer. "…it doesn't have that many followers and it hasn't been asked since 2010," she says.
SI QUAN ONG
2. Identifying good questions
That's what Si Quan Ong wrote in Quora Marketing: ~1 Million Views Generated. Here's How to Replicate Our Success
He says that "Pareto's Principle suggests that only ~20% of the questions you could answer on Quora will actually send you traffic."
So, he gave some ideas on how to find these questions.
They are:
A. Find questions that get organic search traffic
This section has been treated above by Ankit Singla in How to Get Traffic From Quora – Quora Marketing (2020)
To do this, the article recommends to "Enter quora.com into Ahrefs' Site Explorer, and go to the "Top pages" report."
The pages that receive the most organic search traffic on Quora will show up.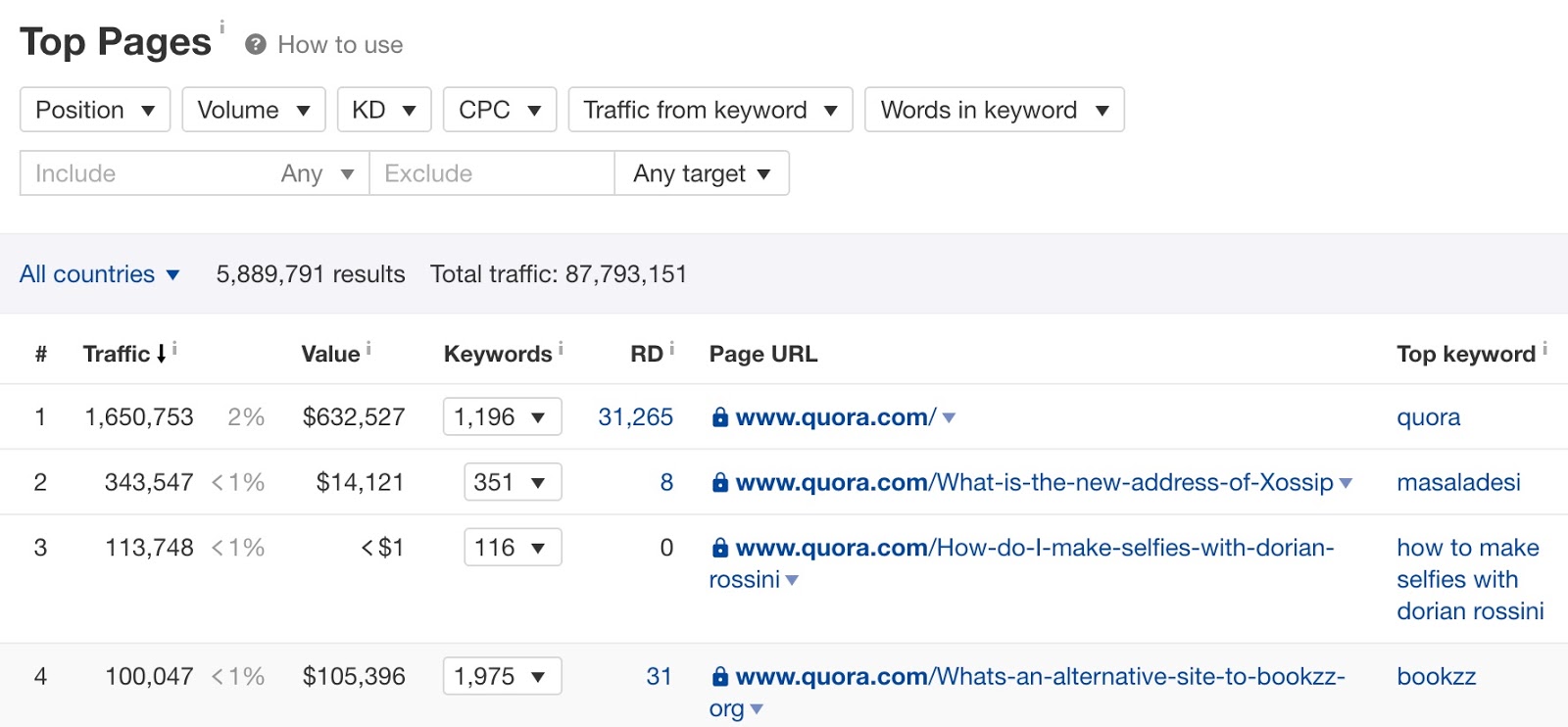 Now, you must narrow down the list.
To do that, enter a relevant word or phrase in the "Include" box. Then click on the caret beside each page URL and you will get the total estimated monthly organic traffic to the page.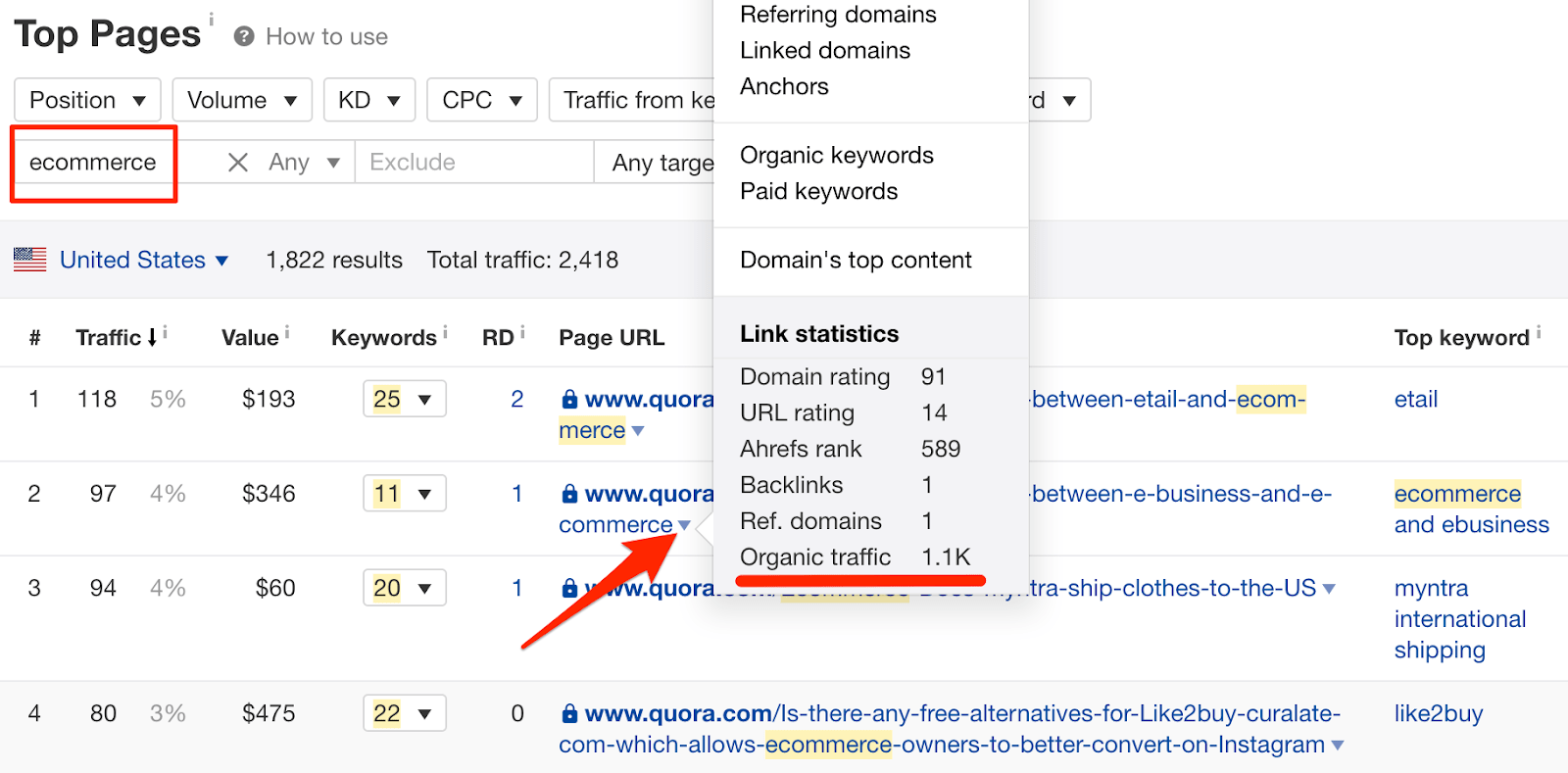 Choose from the list the answers that are relevant to your business.
B. Quora Ads 'Hack'
Si says that "It's easy to tell how many views a question has received so far:"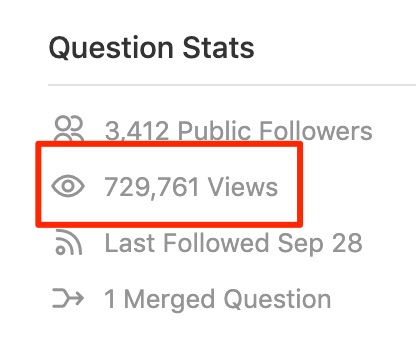 But he argues that this knowledge is only half as useful. "It is sometimes the case that the question was popular a long time ago (e.g., in 2013), received tons of views, and lost traction after," he said.
So he suggests the number of views the question is still receiving today as a more useful metric to mind.
Unfortunately Quora doesn't show it explicitly.
But the author gave a way around this.
To enable advertisers know what they should advertise on Quora, the site displays the number of weekly views for relevant questions.
To put this to your advantage, go to your Quora Ads manager.

Click "Create Campaign."
Note that setting up your Quora ads account doesn't mean you're going to be spending any money.
When asked to fill in the details for your campaign, feel free to insert random information. Your only interest is in what comes next.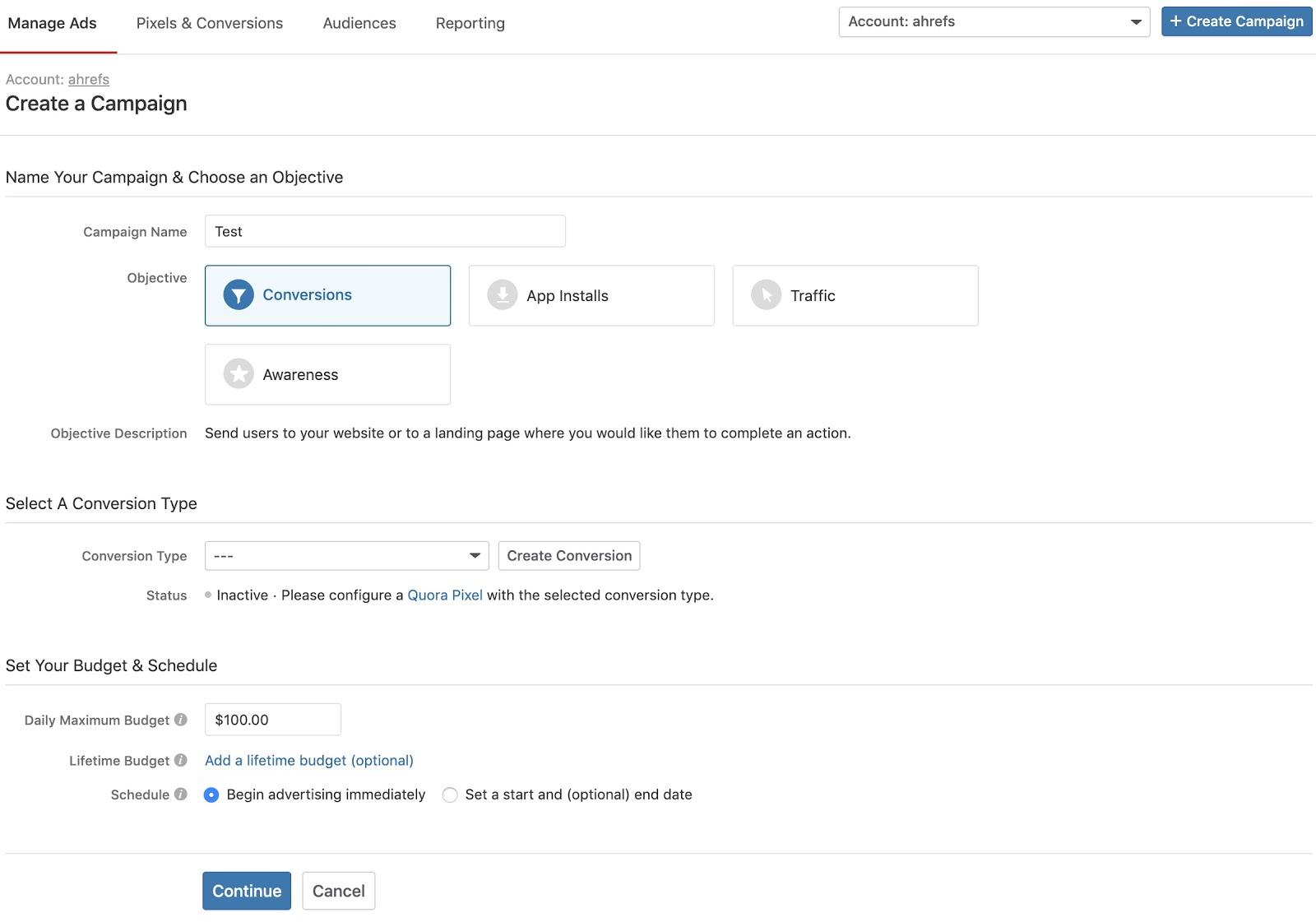 Click "Continue" to progress to the next page.
Under "Primary Targeting", choose "Contextual Targeting", then "Questions".
Then, click "Bulk Add".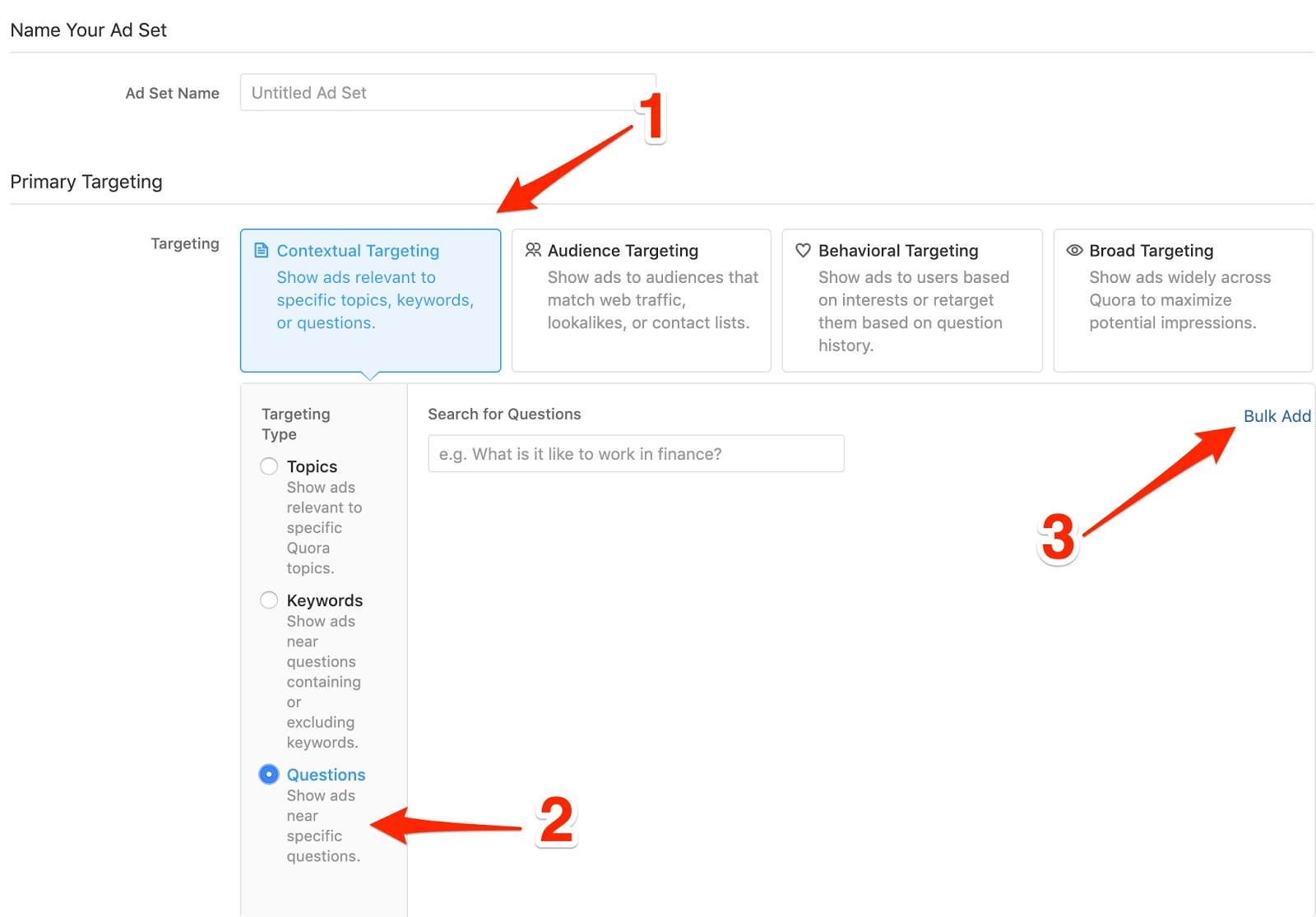 Type in the keyword relevant to you.
Quora will give you questions to answer and also display the number of weekly views.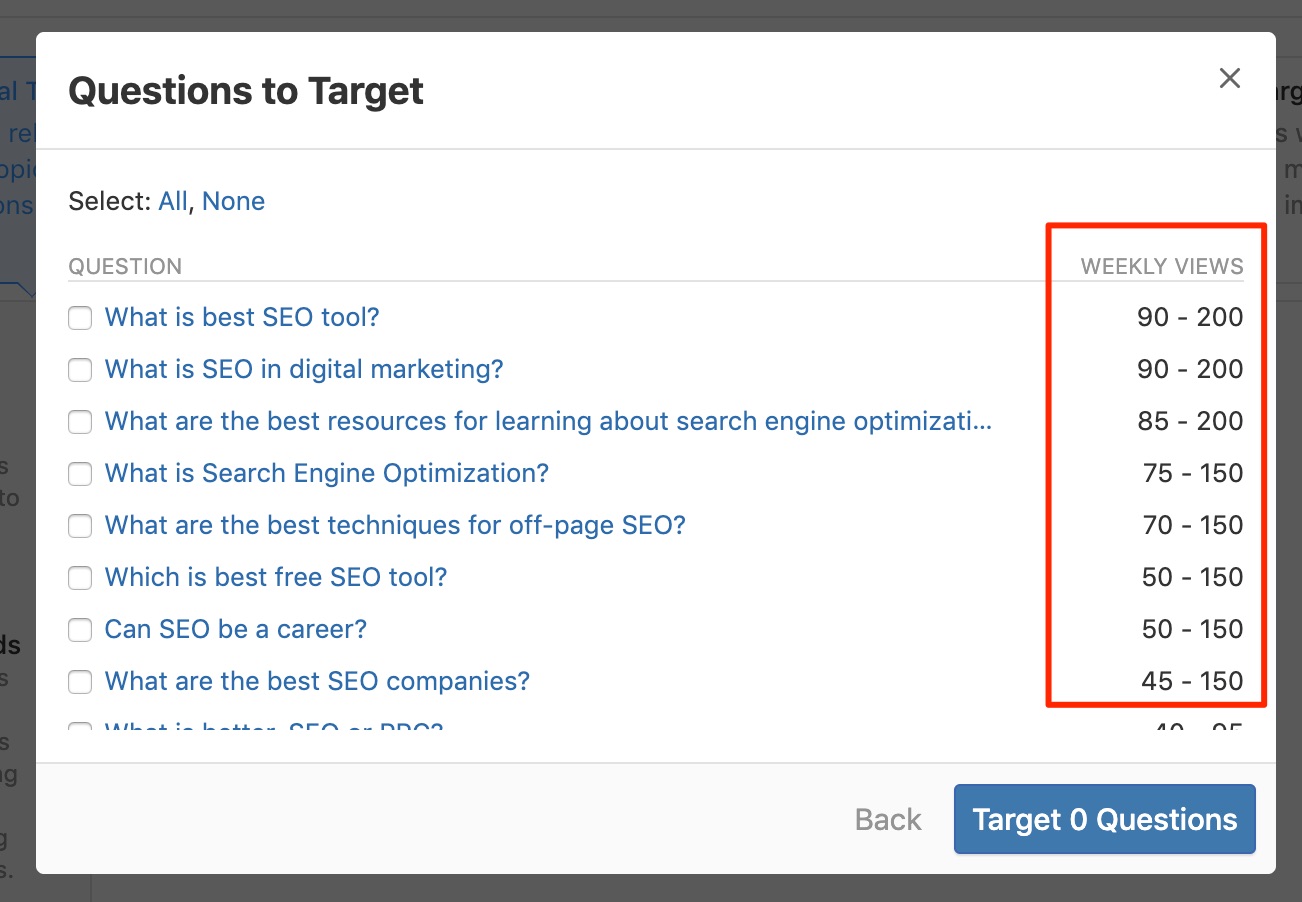 C. Most Viewed Writers 'Hack'
The writer began with this assertion: "I've not seen anyone mention this "hack" before, so I figured that I'm the first person to come up with it. #humblebrag"
Well, congrats, Mr. Si Quan Ong, if that's the case.
For how the most viewed writers 'hack' goes, Si advises to look for a relevant topic (e.g., "Search Engine Optimization").
Click on "Most Viewed Writers."
You may notice that some writers have amassed a disproportionate number of views from answering only a few questions.
Since Quora reveals these questions, all you have to try to do to replicate their success is to answer them.
Si Quan checked out Sarah Clow as an example, who had accumulated ~28,000 views from writing only 11 answers.
Checking them brought up this question as the one sending her most of the views: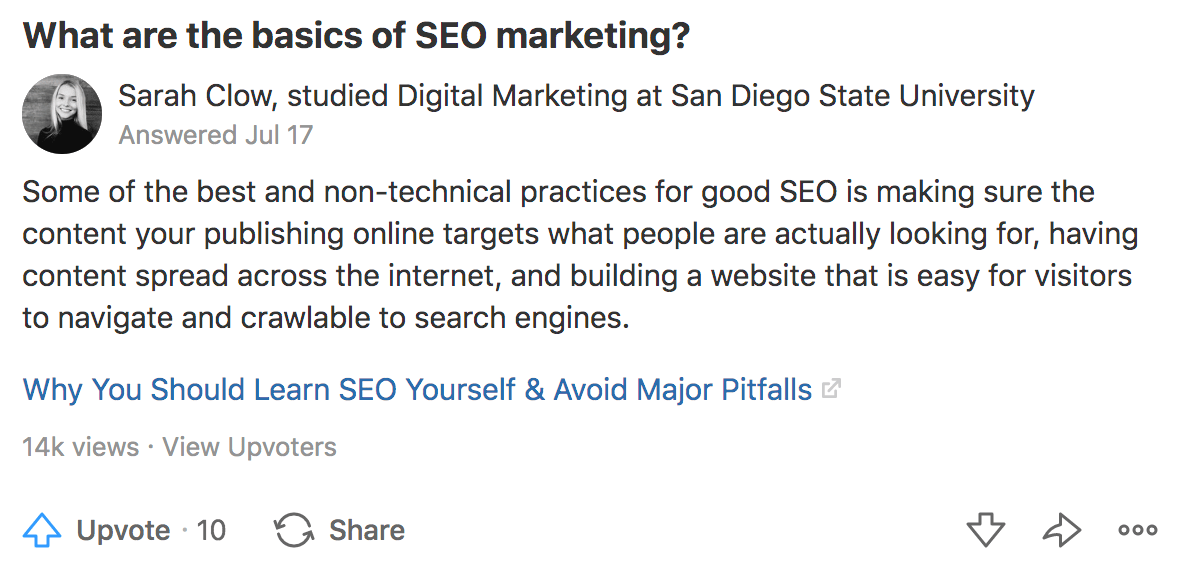 "This question is probably gaining traction and getting the attention of Quora writers," Si Quan says. "Since the answer leaves a lot to be desired, you can easily write a better one and try to replicate her results."
D. Follow the Quora algorithm
As you begin to answer, Quora will recommend new questions and topics for you to answer, typically in your "Answer" tab: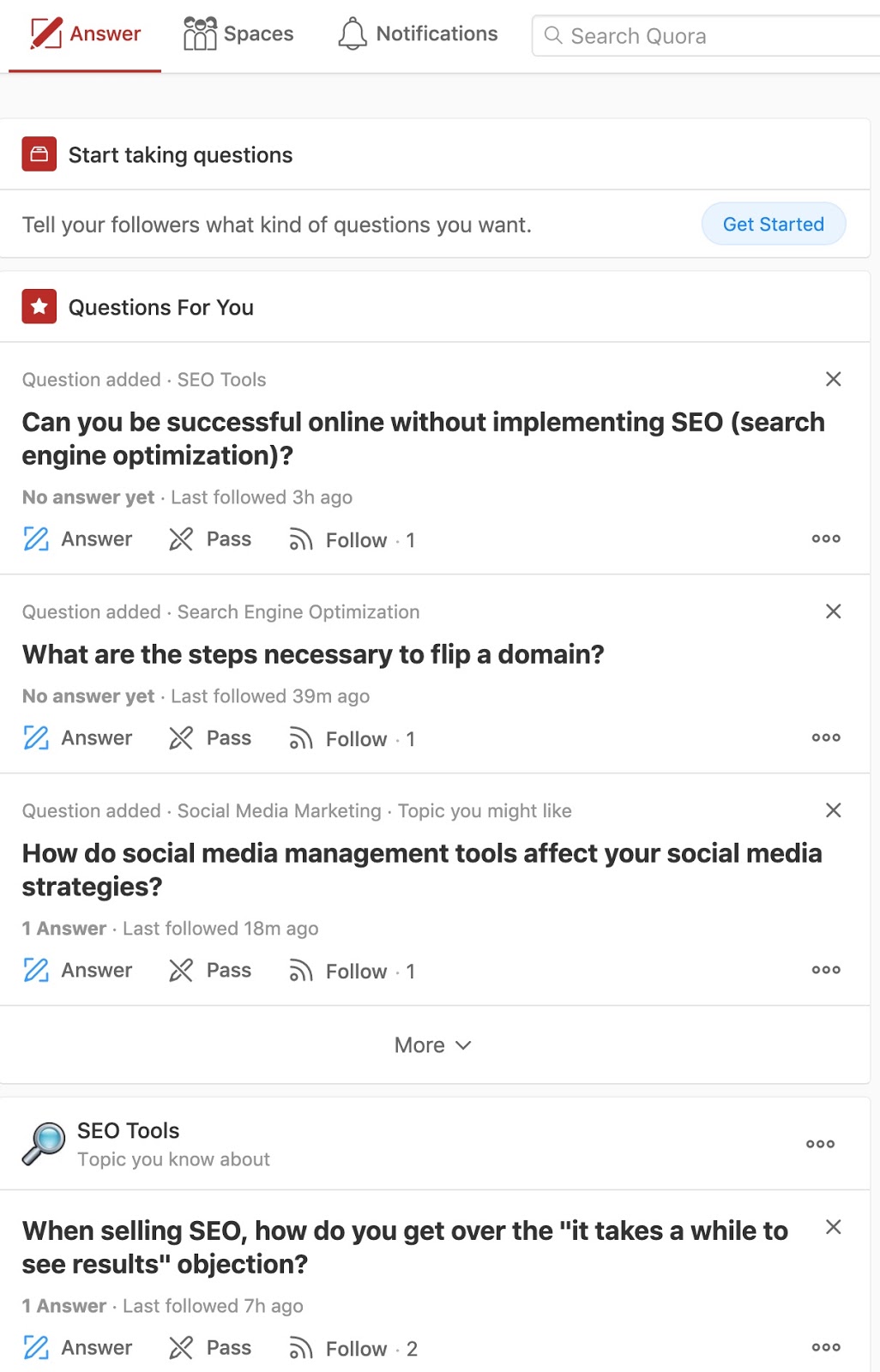 Questions you can also check appear at the top of topic feeds: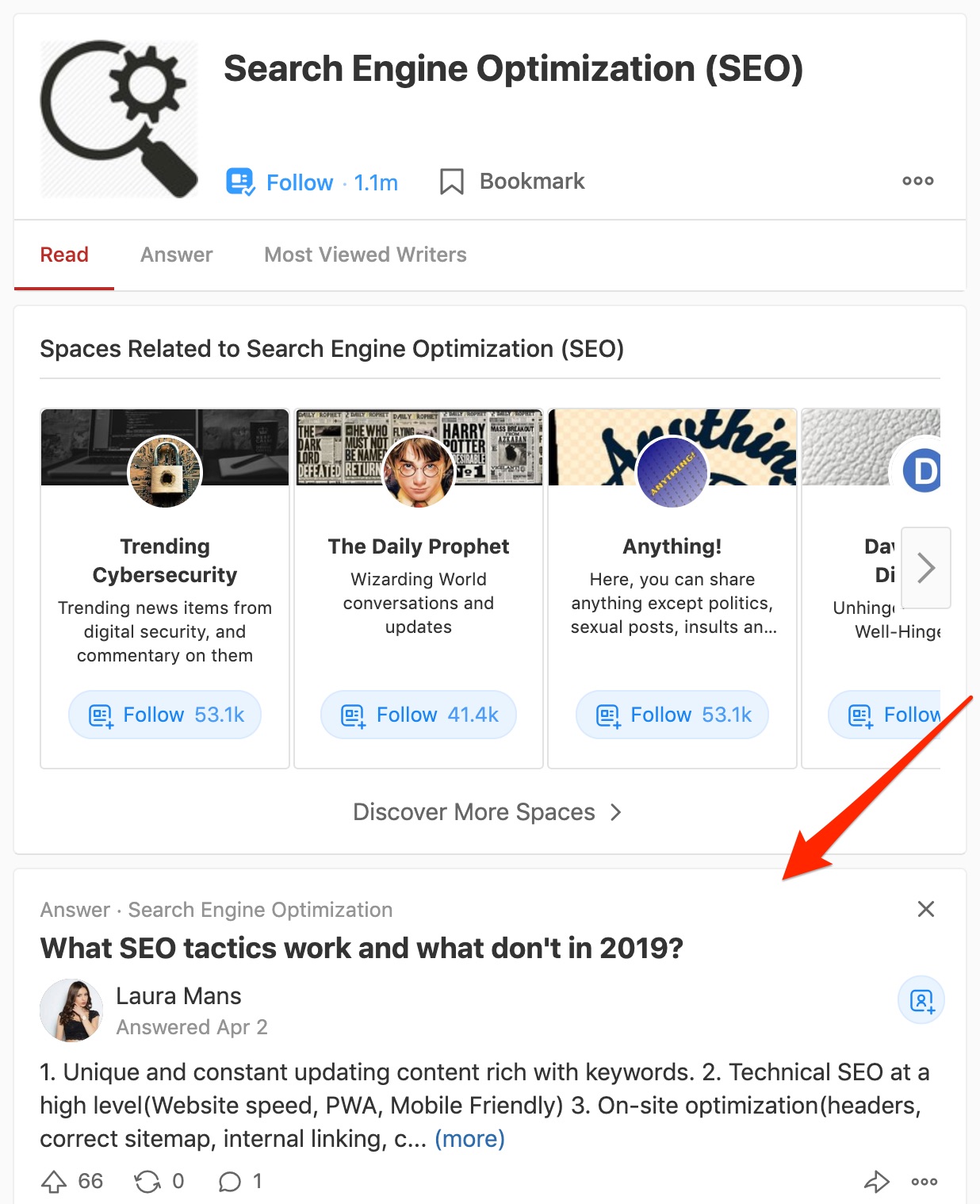 Since these questions are probably popular on Quora, answers you write may receive thousands of views.
3. Prioritizing questions
While some questions might drive a lot of organic traffic, they are super competitive because they have received tons of answers.

So, "Even if the traffic potential is high, it might be impossible for you to stand out," Si Quan argues.
Solution?
You need to prioritize using the following:
A. Look for questions you know the answer to
In order not to waste your time on Quora, you need to focus your time and energy on questions that you already know the answer to. This way you'll spend less time writing.
Best, look for questions which you can answer with posts already published on your blog. All you need to do is repurpose the content which will enable you to write useful, in-depth answers really quickly.
For example, the author repurposed their article on how long it takes to rank on Google:
B. Select questions based on data
When you use the above methods to find potential questions, this should give you a set of URLs.
Now, paste these URLs into Ahrefs' Batch Analysis for the important SEO metrics.

Next, enter these Quora URLs into Screaming Frog, then use custom extraction to dig up relevant data such as the number of people who have answered the questions, links to competitors, etc.
Here's the Regex code given by Si Quan:
<div class="answer_count">(/d+)
And the XPath code: //a[contains(@href,'example1.com') or contains(@href,'example2.com')]/@href
In a sidenote, the author reminded to turn on JavaScript rendering to enable Screaming Frog scrape Quora.
"From here, you'll be able to prioritize the right questions to answer based on the data you've acquired," he added before giving the tip below.
Pro Tip
Screaming Frog will also generate a report detailing any broken external links present in these Quora answers.
It's an opportunity to make a Suggested Edit by asking the author to consider replacing the broken links with one to your own content.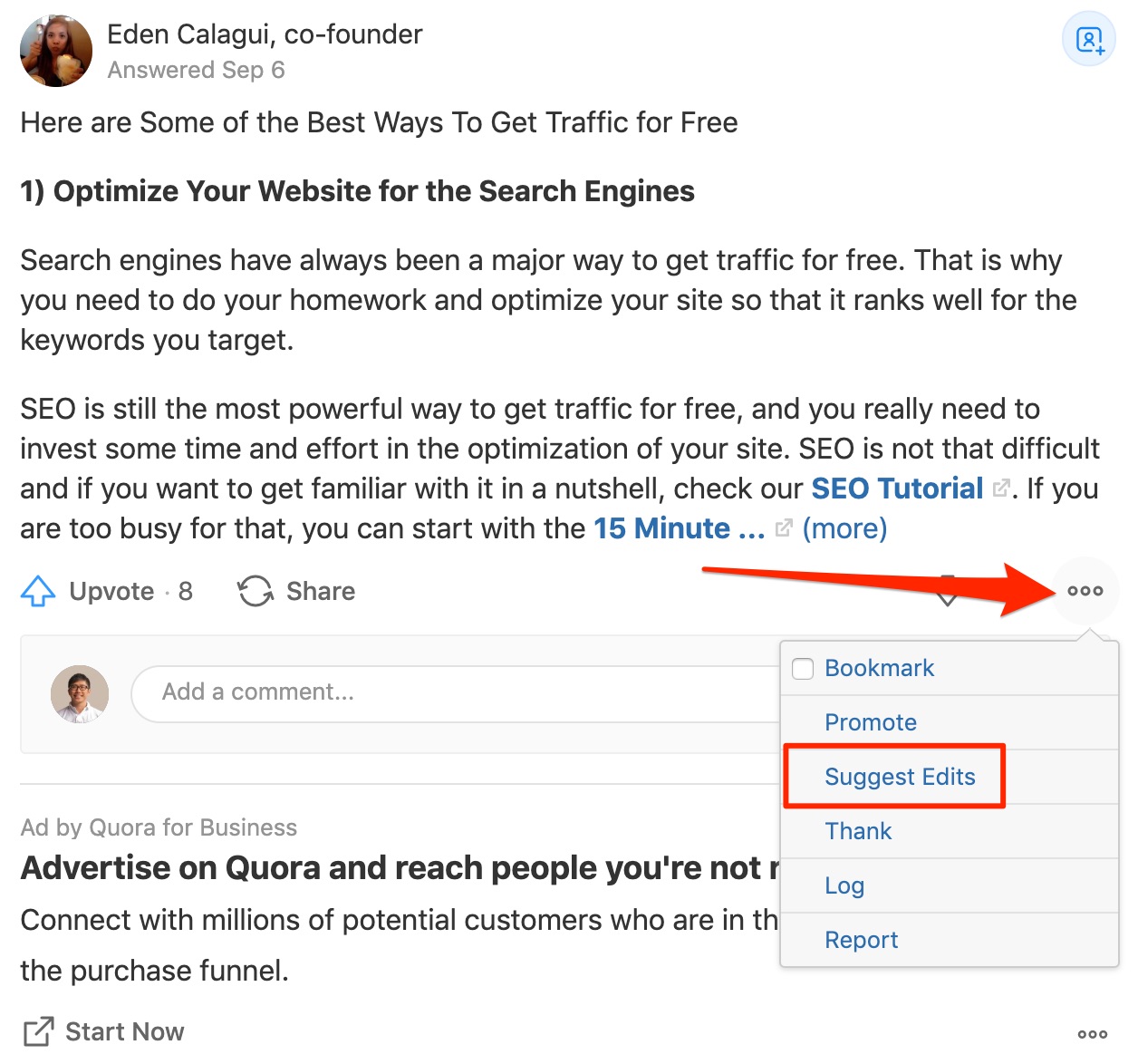 COURSEHERO
In this piece, we read:
3. Find and Answer the Right Questions 10X Faster
It says that if you spend thirty minutes in search of every quality question, traction will elude you. Instead, you should decide what questions to answer and how to find them faster.
And the way to find lead-generating questions is to read as many answers as possible in topics relevant to your business. And while doing that, make sure to note some of your favorite Quora writers in the niches.
Anytime you find a favorite writer, make sure to bookmark the topics that they follow.
The author said he read every answer written by Jason M. Lemkin. In that sense, he bookmarks all the topics Jason focuses on by clicking on who he's following, then selecting the Topics tab.
Here are the attributes that make a question ripe for traction:
I quote
7:1 ratio of followers to the number of answers provided.
A lot of followers, but many bad answers.
A question that you can provide a personal image to complement.
An emotional pull. This pull makes it easier to write more genuine answers with thought-provoking stories.
Relevant to your bio offer.
A question with poor-written answers making yours more likely to stand out.
and unquote.
Now, how can you know a poorly-written answer?
The fastest way is to check if instead of providing value the writer focuses on self-promotion.
Look at the top answer to the question below.
There is a promotional link in the first sentence and provides little value to the reader. The question has a 7:1 ratio of followers to answers.
Jackpot!
To search for questions to answer, go into the individual topics you chose and save the ones which appeal to you for later. This way you can go through thousands of top-performing questions faster since the immediate questions under every topic usually have the highest follower-to-answer ratio.
On finding a good question, click on the three dots next to it, then select "Answer Later."
The author says he spends 15 – 30 minutes finding 5 or 6 questions he wants to answer. That's how he got over 300 questions saved!
To access your bookmarked questions, click on Answer at the top right side of your screen, and on "Answer Later" on the left.
You'll see a list of all the questions you've saved.
Pro tip from the author: Outsource the question search process to a virtual assistant. Ask them to go through a list of 100 to 200 topics to find the questions matching the 7:1 followers to answers ratio. Let them create a spreadsheet where with columns for hyperlinked Quora questions to their original source, follower ratio, topic name, and a 1-5 rating of how good the other answers are to the question (1 being the best).
Quora topics list
Click here to get Quora Top Pages Spreadsheet!
"I have my virtual assistant provide me thirty questions every Monday," the writer says, "so I'm ready to start the week knocking out Quora answers."
MOHIT ARORA
Mohit Arora, in The Complete Guide to Use Quora To Promote Your Website, wrote the following:
Following people and blogs
Following Other Quora Users

Mohit recommends to "Search questions based on your topic or niche and follow people who participate in discussions." Since your follows and upvotes appear in users' Quora notifications, you may get followed back.
Another way to get people to follow you is to upvote their answers and give them credit if you like their answers.
On receiving notification from Quora, they may check your profile and probably follow you.
Following other users with related interests can lead to small business owners developing relationships with other business owners.
In addition, you can search and follow blogs that interest you by typing in the blog name or the author's name.
I quote
Engage with other people. Follow people you're interested in, upvote their answers, and leave comments. Quora is unlike most other social media sites, but the one thing that remains the same is that you should be social.
Be active in general. It's easy to just want to answer a few questions once a week when you publish new content, but you'll see slow growth that way. Go through niches you're interested in and answer questions just for fun every now and then. Promote old content or promote nothing at all, just be active and get your account out there.
and unquote.
You may want to read:
My most viewed answers on Quora
How to create an account on Quora and optimize your profile for success
FAQ's About Wealthy Affiliate – Part I: Home
5 Questions You Need Answers to Before Joining an Affiliate or MLM Program
FAQs About Wealthy Affiliate – Part II: University Education
Akoli
Your personal guide to securing your future online