If you have difficulty making money on the internet, this post is going to help you know how to recruit people for your online business. I will introduce you to the concept of online (and also offline) marketing, especially in regards to how to generate leads for your business.
If you are willing to persistently put in a few hours' work, I can promise you that your eyes will be opened to how to recruit people for your online business and thus make the easiest money you will ever have in your life in any online opportunity.
Bold statement?
Not at all.
Why?
Success online is attainable if you will be consistent and stick to one thing at a time. Remember Jack of all trades? What is he said to be? Master of none. There you have it.
Although you may be a newbie and not a seasoned marketer making all your income online, but once you get the hang of how to recruit strangers into your new program, you will soon see it is not only possible to trade in your 9-5 job for a work-from-home one but also live very well working on the internet.
The strategies I share with you here are mainly aimed at helping you get sign-ups in EasyCash4Ads, but they are also valid for any online marketing.
As I said in the opening paragraph, these ideas also work for offline marketing. In the world today dominated by smart phones and websites designed to be compatible with all devices (such as EasyCash4Ads's) selling is really a mix between online and offline marketing.
First rule of selling
Before you begin to sell, here is what you need to do first:
I guess you joined an online program because when you watched their sales video you realized it had tremendous potential to let you make extra money.
I now encourage you to watch your program's video again, at least 5 times if it's not long (up to 6 or 7 minutes) but 2 or 3 times if it is. (If you're in EasyCash4Ads or want to have a look at it, you can watch the 6-minute video here.)
Why?
Any good salesperson knows that the very first rule of selling is that what you are selling is not a product but yourself.
Why?
Prospects buy from people they know, like and trust.
And people will have more trust in you when you sincerely exude excitement about the product you are selling.
Say, if you don't really know your product very well, how can you be super excited about it? And if you are not really excited about the product, how can you expect your prospective buyer to be?
Fortunately with your program's sales video it is easy to know your product very well and have that knowledge. Thus you can easily and confidently answer questions (even trick and loaded ones) from a prospective buyer and thus overcome their objections.  
Second rule of selling
Never ever fabricate answers or lie when you don't know the answer to a prospect's question simply because you are desperate to close the sale. This has a boomerang effect because it will come back to bite you later.
Instead say something like: "Well, I am not very sure. I'll quickly shoot support a ticket and see what they say". 
Instead of making you lose face, this display of frankness will rather get you the sale the majority of times.
Do you want to know how to recruit family members, friends, colleagues, and neighbors into your online business? Then click here to read the easiest, quickest and free method to get at least 3 sign-ups.
| | |
| --- | --- |
|   | Case Study: EasyCash4Ads's Admin's deadly effective classified ad campaign |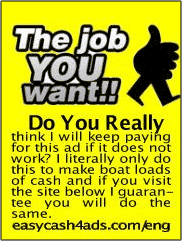 The ad up here is the actual one placed by EasyCash4Ads's admin in a local newspaper. They ran it on 7 consecutive days.
Know what?
It brought them 47 sign-ups and 3 days later this jumped up to 62, making them a return on investment of more than 430% on their direct sales alone!
The resounding success of this campaign made EasyCash4Ads' admin to place 4 permanent ads in 4 publications. They also used the same technique with their flyers. (Scroll down for this technique which, unlike the classified ad, you will not have to pay for)
Why does the ad work?
Take a look once again at the first sentence in the ad; what do you think it evokes in the reader's mind?
The ad gets results otherwise the advertiser would not continue paying for it. This no doubt peeks the reader's interest.
The second sentence tells the reader that somebody's making a lot of money here and gives them the idea that all they have to do to make money too is to visit the website.
And when they see the website link with the words easy cash 4 ads, that reinforces their perception that all they have to do to make that money is to place ads. And that is what EasyCash4ads is. 
And now the program's sales video does the rest to convert these visitors into leads and/or new sign-ups.
You want to duplicate this success?
Good. But before placing the classified ad in any newspaper, magazine or other publication to recruit people for your online business, do the following:
Ask the publication for their circulation. This will enable you to compare circulation and prices of the publications to find the best value for money.
Inquire about their reader demographics. This will allow you to place your ad in the publication with a readership your business can interest and thus get great results. 
Use a link tracking service. This will let you know which publications your visitors are coming from and also which of them is sending you the most visitors.
N.B.: If you are in EasyCash4Ads and joined GDI under the bonus section, EasyCash4Ads' admin recommend you create an auto re-direct page on your GDI website in your classified ad that directs to your tracking link. Something like: www.yourgdisite.ws/easycash4ads/
Flyers
The flyer uses the same concept as the classified ad and is also as effective. Moreover it is free advertising.
If you are member of EasyCash4Ads know that the flyer below (which you can find in your dashboard by clicking on the Mascot, then on Recruit Strangers and finally scroll down and click on I'm new to on-line marketing) already contains your affiliate link. All you have to do to generate leads for your business is simply click one of the formats below to download a ready-to-print flyer with your affiliate details. Then put them up at as many public notice boards as possible. And like the classified ad, see your sales rolling in!
If you are promoting a different program, just adapt the flyer to it and you are good to go!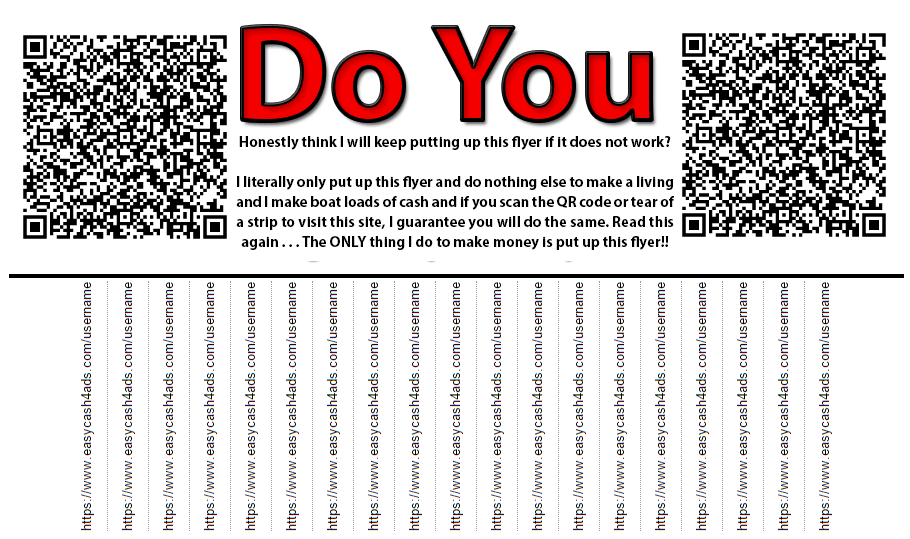 You can click to download format as PDF, JPG, and PNG.
Not a member of EasyCash4Ads?
Not ready yet? Click here for more information.
How to use the flyers
Print out a couple of sheets, cut strips (as you see in the example image), taking care also to make a small horizontal cut. (This way the strip comes off easily without tearing into the rest of the sheet.)
Should you not have a printer, just download the edited template to a thumb-drive on your local PC and have it printed at a local stationary shop.
Now, tear off 2 or 3 strips of the flyer to give the impression that it has already attracted people who have already torn off the strips. This makes people not only curious but also desirous (Who wants to be left behind?) to know what you have to offer.
Flyers are great for advertising because they require very little work but deliver a huge pay-off. Flyers are known to bring in sales weeks after you put them up. So they have the potential to bring in dozens, and why not, hundreds of new sales.
This is beneficial as every new referral you have can also grow his account into a multitude of referrals and bring you unlimited income.
So imagine doing a weekly flyer run! That could potentially become your sole source of income.
Where do you put up these flyers?
Hang up your flyers at:
Public notice boards at busy shopping centers.

Public notice boards at colleges and universities.

Community centers.

Your local church.

Places people usually have to wait in a queue.

Public notice boards at child day care centers.

Public notice boards at busy shopping centers.

Etc., etc.
Just sit down and think of it: you would come up with literally an unlimited number of spots you can put these up these flyers to recruit strangers into your new program and have innumerable referrals in your program.
Are flyers effective?
I will let you judge from the testimonial below. It was sent to the EasyCash4Ads Helpdesk by a real member.
Social Media
You are leaving money on the table if you are not using social media to promote your programs to recruit people into your business. If nothing at all, just for these reasons:
One: they are free to sign up.
Two: they have the biggest demographic groups you'd find anywhere.
Three: they give you free advertising (Paid versions also exist for some of them.)
Four: the program you are promoting normally has social media buttons (like you see below) with your affiliate link embedded in them.



So all you have to do is click the buttons to share the sales video with your friends on your favorite social network(s).
Good luck in your efforts to recruit strangers into your new program. May the money come rolling in!
Akoli
Your personal guide to securing your future online